Team up with Maui's own MLB Gold Glove Centerfielder Shane Victorino and other stars from the worlds of sports and entertainment for the 3rd annual Shane Victorino Foundation Celebrity Dinner & Golf Classic, presented by EmergenSee on Saturday, November 20, 2010 in Maui, Hawaii.
The event kicks off as celebrity team captains tee it up on the fabulous Wailea Golf Club Gold Course, with corporate executives and community leaders, for a shotgun scramble format tournament. Lunch, courtesy of Tommy Bahama's Restaurant and Bar, and beverages will be provided throughout the day. Each golfer will receive a Hurley gift bag and board shorts, embroidered golf shirt, custom hat and other fantastic gifts.
That evening, participants head to the Four Seasons Resort Maui for an evening cocktail reception, silent and live auctions filled with exotic getaways, sports memorabilia and other one-of-a-kind items during an island-style dinner. An awards ceremony will follow the dinner. ESPN Sports Center Anchor Neil Everett will emcee the event!
This tournament has become one of the premier golf tournaments in Hawaii. Scheduled to join Shane this year are: Phillies' Mike Sweeney and Jamie Moyer; Yankees' Chad Gaudin; Mariners' Brandon League and Jason Vargas; Kansas City Royals' Kanekoa Texeira and Kila Ka'aihue; Blue Jays' Lyle Overbay; Brewers' Trevor Hoffman; Radio Show Host Danny Bonaduce; Retired MLB Players Bret Boone, Lenn Sakata and Sid Fernandes; Surfing Hall of Famer Pat O'Connell; and others.
All proceeds will benefit the Shane Victorino Foundation.
Sponsorship packages are available from $1,500 to $25,000
Download sponsorship packages
Download golf tournament brochure
For more information, please contact Event Coordinator Lisa Young at 310.722.1590 or lisa@shanevictorinofoundation.org
Thank You to our 2010 Sponsors
Title Sponsor
Home Run Golf Classic Sponsor
Triple Play Sponsor
Double Play Sponsor
Base Hit Sponsor
Foursome Sponsors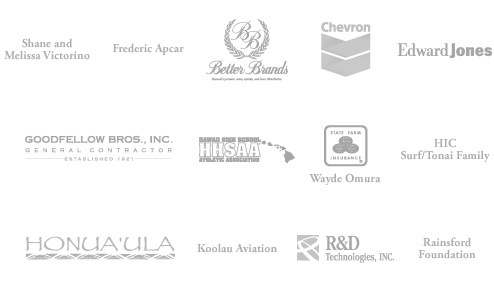 Lunch Sponsor
Breakfast Sponsor
Beverage Sponsors
Wine Sponsor
Spirits Sponsor
Host Course
Gift Bag Sponsor
Golf Shirt Sponsor
Sign/Print Sponsor
Hole in One Contest Sponsors
Hole Sponsors
VIP Reception Sponsor
Media Sponsor
Ground Transportation Sponsor
Airline Sponsor
Decor Sponsor
Lei Sponsor
Photographer
Contributors